I have really enjoyed reading the "Book of Mormon" and finished learning about Nephi's courage to build a ship in opposition to his brothers taunts. If you would like to read it you can find it here:
1 Nephi 17
Then I was impressed with all that I was learning from General Conference and all the ocean analogies. I couldn't help myself and had to create a fun filled family home evening that captured all of it.
If you are wondering what family home evening is, you can learn more about it
here
or you can read what this post is all about.
Children helping me with my felt lesson on oceans and ships.
We gathered together in our living room and we talked about what our schedule is for the week; school work, activities, short days, picture days, appointments. That way we can all be aware of what each of our family members is doing and how to best help each other.
Then we sang a song: "Nephi's Courage" (
song found here
)
Clark gave an opening prayer.
I taught the lesson, and this is how it went:
During General Conference there were many "ocean" stories. Can any of you tell me what stories you remember?
They responded with: "Ol' Ship Zion", "Shipshape and Bristol Fashion", "Going deeper, like a scuba diver", "Don't mock the barrier (bay in Australia) it protects against sharks", "Tsunamis and natural disasters".
I told them how I had been reading about Nephi building the ship recently and these ocean stories all came together. I had each of the children take turns helping to tell the story of how Nephi was commanded to build a ship to take the family across the ocean. When they were on the ocean they were blessed to know which direction to steer and the sea was safe. However, when some of the family started acting wickedly and they even tied Niphi up, the storms arose and the Liahona (compass) stopped helping them know which way to steer.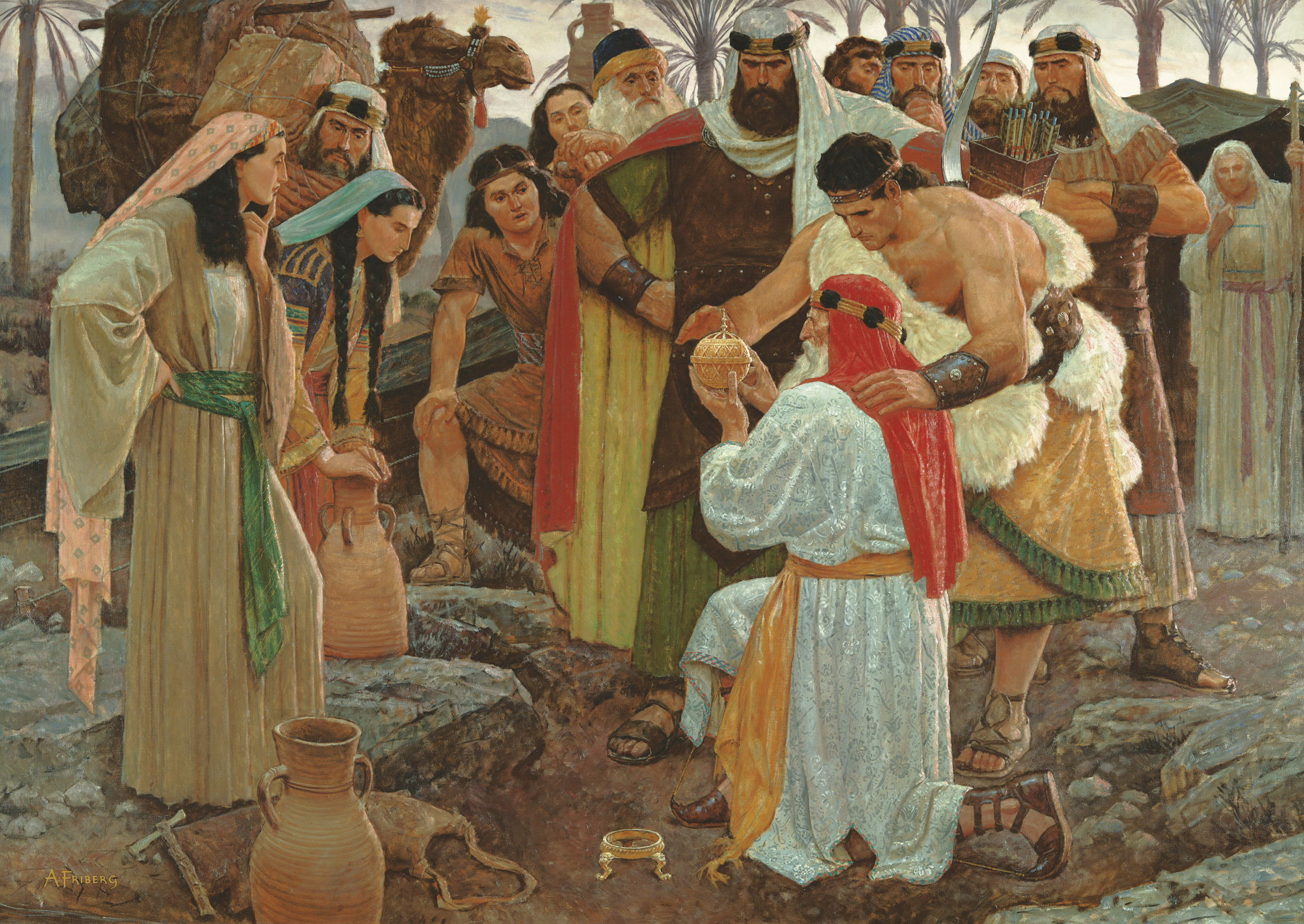 Lehi and his family (Nephi), looking at the Liahona.
I shared that I learned as I was reading that the ocean is like life, it can be smooth and easy, or have great ups and downs. The ship is like the covenants and commandments that we live by that keep us safe. As we hold to our covenants and stay worthy and righteous, we will remain safe in our ship and can ride out any of the waves that come our way. When we lose focus of what is right and choose to act wrongly or wickedly, then the heavy storms arise to warn us of all that we have to lose. We lose our ability to navigate safely through life and unless we change, we can sink.
I testified that as we choose the right and keep the commandments and our covenants, we will be blessed with guidance and protection. I shared how Elder Maxwell once said that in life we need to use two hands, one to hold the shield of faith and the other to hold to the iron rod. (referring to Lehi's dream in
1 Nephi 8
)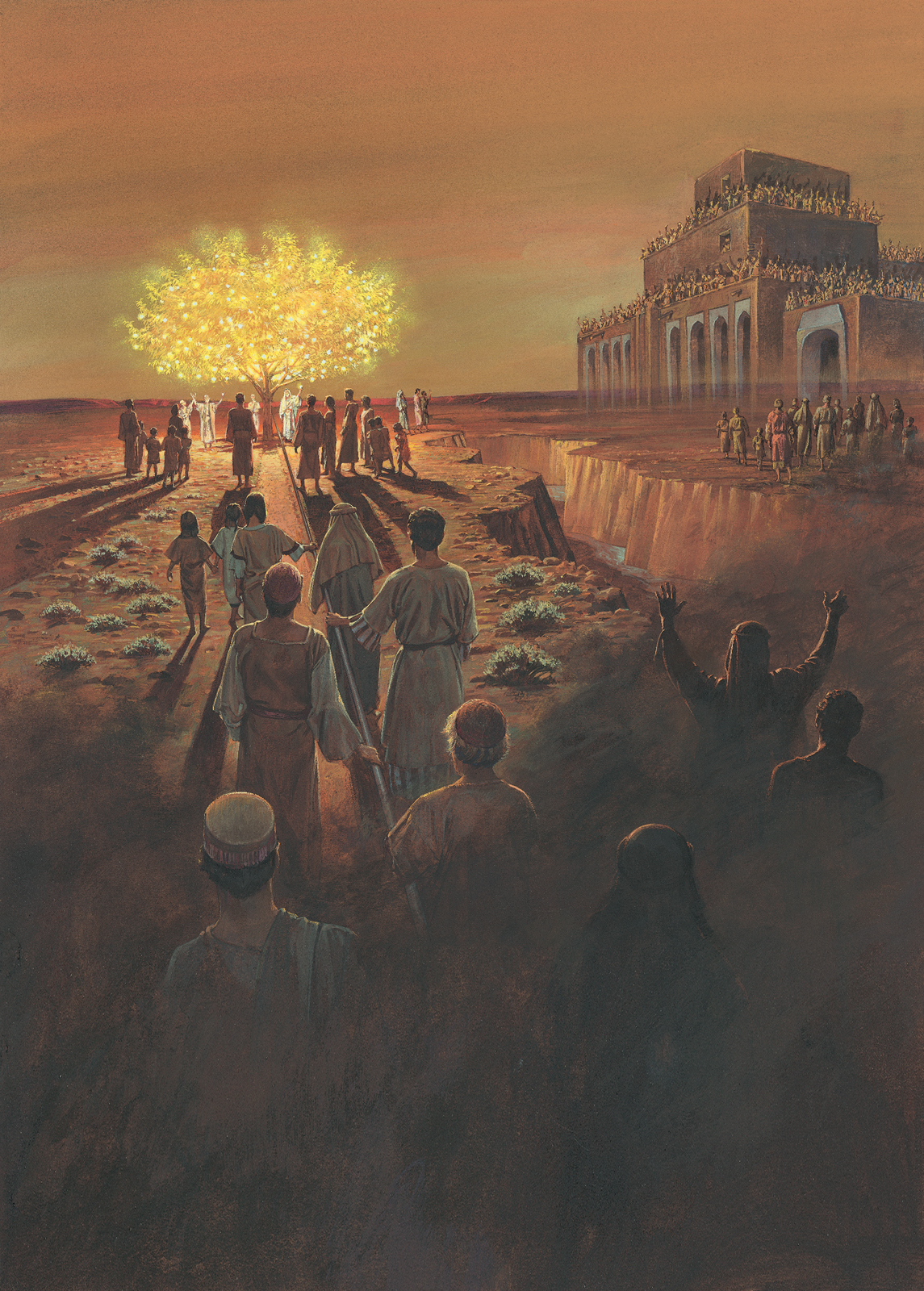 Lehi's dream of the tree of life and the iron rod.
I know that as we hold tight in our ship and not mock the barriers that keep us safe, on this journey through the ocean of life, we can reach our eternal destination to live in the Celestial Kingdom with our Father in Heaven.
You can read about the General Conference talks where many of the ocean references came from:
here
.
Of course, you can't have family home evening without a treat. We gathered at our table and enjoyed an ice cream treat. We enjoyed talking and being together. Our hearts were touched and we felt closer as a family because of this.
The subject on my post is "Peace Be Still" because we can have peace through Christ our Savior.
-
Mark 4:39