Lately the cares of life seem to be creeping up and surrounding me and I find myself running to and fro and not spending as much time doing those things that would draw me closer to my Heavenly Father and the Savior. As the first month of the year finished up, I lamented that I hadn't made an opportunity to get myself to the temple. I felt terrible starting a new year where I didn't do something that was so important to me.
I miss the peace I find there in the temple. Even just looking at a picture of it makes me remember how much I need that peace.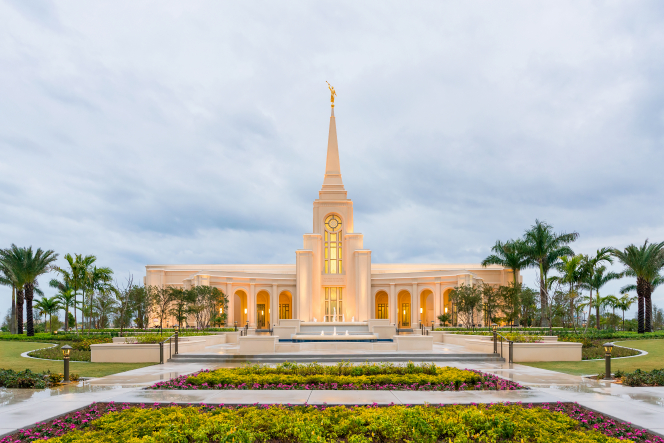 Fort Lauderdale Florida Temple
I looked at life and it seems to be swirling all around me making it hard to find time to make it down to our temple. I feel a lot like the word from "Mater the Tempest is Raging" (words by Mary Ann Baker):
Master, the tempest is raging!
The billows are tossing high!
The sky is o'ershadowed with blackness.
No shelter or help is nigh.
Sometimes it feels like we have to make it through the raging eye of the storm just to make it to the temple. We don't have to do it alone, we can do our best and the Lord can help with the rest. "
I will go in the strength of the Lord
God" (Psalms 71:16).
Why? Why do I yearn to go to the temple so much? President Gordon B. Hinckley explained, "
Temples

of

The

Church

of Jesus Christ o

f

Latter-day

Saints

are

sacred

structures

in

which

these

and

other

eternal

questions

are

answered.

Each

is

dedicated

as

a

house

of

the

Lord,

a

place

of

holiness

and

peace

set

apart

from

the

world.

There

truths

are

taught

and

ordinances

are

performed

that

bring

knowledge

of

things

eternal

and

motivate

the

participants

to

live

with

an

understanding

of

our

divine

inheritance

as

children

of

God

and

an

awareness

of

our

potential

as

eternal

beings.

" ("Why These Temples?", Oct 2010)
Not only do we find the temple as a place to take ourselves out of the cares of the world for a moment, but it is also the center of making our family relationships last forever. In my scripture reading this week, I read that Nephi--the son of Helaman--received a revelation where he was blessed with the
Priesthood power
to seal. "
Behold,
I
give
unto
you
power
,
that
whatsoever
ye
shall
seal
on
earth
shall
be
sealed
in
heaven;
and
whatsoever
ye
shall
loose
on
earth
shall
be
loosed
in
heaven;
and
thus
shall
ye
have
power
among
this
people." (Helaman 10:7)
A Sealing Room in the Temple
I am thankful for the blessing of having my family sealed in one of these temples. Years ago when my husband proposed to me we were standing in a building that overlooked the Salt Lake Temple. When asked how far we could see, the reply was "Forever". As we enter the temple and live Christ-centered lives, our perspective is moved from the "here and now" to an eternal perspective.
So, even though life is whirling around me, if I keep my eye on the temple and my heart on my Savior, I can have peace and the perspective to face all that life has in store. Again from "Master the Tempest is Raging":
The winds and the waves shall obey thy will:
Peace, be still.
Whether the wrath of the storm-tossed sea
Or demons or men or whatever it be,
No waters can swallow the ship where lies
The Master of ocean and earth and skies.
They all shall sweetly obey thy will:
Peace, be still; peace, be still.
They all shall sweetly obey thy will:
Peace, peace, be still.